Upcoming Seminars / Webinars / Events
From the Principals' Desk
Prof. (Dr.) Krishnendu Dutta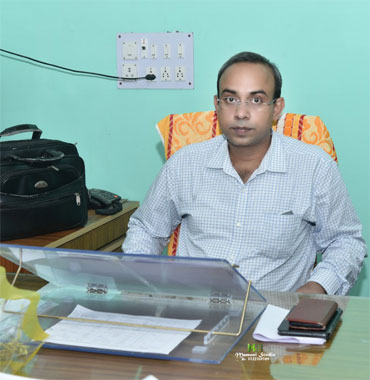 It is always challenging and exciting to be in charge of a new endeavour. The Government General Degree College, Kalna I (GGDCK), is a fledgling institution that started in 2015, and is now on the road to success with its group of young, energetic and dedicated teachers. From this point it can only reach greater heights.
Affiliated to the Burdwan University, the College aims to reach a wider student belt and make available coveted government facilities to its students. It has most modern educational amenities, such as state-of-the-art laboratories, smart classrooms and a well-stocked library with OPAC. The teaching learning activities of the college strictly adhere to the methodologies of Education 3.0, such as flipped learning and blended learning methods along with an extensive use of ICTs.
The college aims for holistic development of its students and offers facilities for indoor and outdoor games. It has a good playground for the purpose. Students also have the opportunities to contribute directly to society through the NSS unit of the College. Students are also increasingly encouraged to organise and participate in cultural activities and intra-college interactive sessions.
The mission of continuous improvement and the aim towards excellence prevail in the vision of the College and its systematic implementation starts with the formation of Internal Quality Assurance Cell (IQAC). The Cell serves the function of monitoring, facilitating and assuring quality education and has been a vehicle of improvement and progress for the institution. It aims to harness all the resources of the College in order to ensure that every department becomes a centre of excellence in future.
The medieval town of Kalna, steeped in history, has a strategic location on the west bank of the Bhagirathi. It is accessible to people of the Bardhaman region, as well as those of Nadia, across the river and the college caters to these wide areas. Hence, notwithstanding the presence of the older Kalna College in the vicinity, this institution has a steady inflow of students, and provides a much needed alternative to the young learners of the place. With its continuously expanding scope, the Government General Degree College, Kalna I, envisions on playing a significant role in the rapidly developing town, by offering new opportunities and imparting all-round education to the predominantly first-generation learners from the semi-urban and rural belt. Our ambition is to nurture them into proficient global citizens. To achieve this, GGDCK judiciously mixes the culture of rural and semi-urban Bengal with the pace and technology of the modern world, to create an atmosphere perfectly conducive to academic pursuit. The college also plans to undertake future projects that would contribute to the social and cultural uplift of the neighbourhood.
I am certain that our vision of imparting holistic education and creating life-long learners would be fulfilled through our mission of plumbing and garnering the potentials of this region, and with the might of the collective, the college will soar the heights of success.
OUR FACILITIES
Our College is devoted to excellence in teaching, learning, and research, and developing leaders in many disciplines who make a difference globally.
Green Campus
Free Studentship and Stipend
Library
N-List Membership & Access to E-Books/E-Journals
Smart Classroom
Auditorium
Outcome Based Education
NPTEL local Chapter SWAYAM

CURRENT EVENTS
One Day Workshop on Stress Management on 9th June, 2022 Org. By GGDCK-I & Jadavpur University
View Flyer
World Environment Day 2022 Celebration by Dept. of Chemistry & IQAC
View Flyer
One day Webinar on "Intellectual Property Rights Awareness Programme" Org. By CGPDTM in association with IQAC, GGDCK-1 on 25th May, 2022 at 12:00 PM
View Flyer
Cultural program to celebrate the Birth anniversary of Rabindranath Tagore and Kazi Nazrul Islam in a befitting manner on 04/06/2022 at 12 noon n College Auditorium (Room No.-204)
View Notice
One Day Seminar on "Women of 21st Century: Issues and Challenges"
View Flyer
Celebration of international Mother Language day

NOTICE

TENDER
Notice GGDCK/TEN/SDS/114/2022
Designing, installation and commissioning of Integrated Student Database Management System
View Notice
Notice GGDCK/TEN/WEB/18/2022 Building, Designing, Hosting, SSL and annual maintenance of College Website
View Notice
Notice GGDCK/TEN/SPEC/10/2022 Supply, Installation & Commissioning of UV/VIS Spectrophotometer
View Notice
Notice GGDCK/TEN/BOOK/108/2021 Tender for Library Books
View Notice
Notice GGDCK/TEN/WEBS/09/2021 Annual Maintenance of the College Website & Online Admission
View Notice
Notice GGDCK/TEN/STG/141/2020 Date Extended up to 23.11.2020
Notice GGDCK/ETEN/SGD/142/2020 E-Tender for Security Guard
View Notice
Notice GGDCK/TEN/STG/141/2020 Stationary Goods for all departments & Office as listed in the annexure (Annexure-I).
View Notice
Notice GGDCK/TEN/WF/82/19 Tender for Aquaguard Water Purifier
View Notice
Notice GGDCK/TEN/PHY/81/19 Tender for Department of Physics
View Notice
Notice GGDCK/TEN/BOOKS/80/19 Tender for Books
View Notice